Enrol in Martial Arts classes for all ages at any skill level.
Free 2 week trial available for Kickboxing, Kung Fu and Self Defence.
Our Classes
Contact Us
START YOUR FREE 2 WEEK TRIAL

IMAO Martial Arts Classes
Independent Martial Arts Organisation (IMAO) offers Martial Arts training and Kickboxing. Master C. H. Broomes, former world all styles team Kickboxing Champion and British and European Champion, along with his team of highly trained instructors will train and support you through regular gradings and competitions.
With a wide option of class locations and regular training courses in locations such as Isle of Wight and Spain, IMAO can offer its students a supportive and friendly atmosphere for practicing martial artists to develop their skills.
IMAO clubs are situated all over the UK in Hampshire, Isle of Wight, Dorset and Birmingham areas. Classes are available for men, women and children, from beginners to experienced martial artists.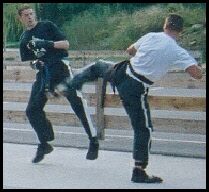 St. Marys Ymca Newtown Youth & Community Centre

Southampton SO14 oaw

TUESDAY

Juniors & Adults 7.30PM

Redbridge Community School

Southampton so16 9aw

MONDAY

Juniors & Adults 7:30 PM

Southampton Swaythling Community Centre

Hampton Park Way Off Broadlands Road Southampton SO17 3AT

WEDNESDAY

Adults and Juniors 7:00 to 8:00pm PM

Portswood Gym Activity Centre

1 St. Denys Road Portswood SO17 2GN

WEDNESDAY

Juniors & ADULTS 5:30 PM

SATURDAY

Juniors & Adults 12:00 AM

Shirley Freemantle

WEDNESDAY 7.30PM

PHONE FOR DETAILS

Juniors & Adults

Titchfield Primary School

Southampton Road Fareham PO14 4AU

MONDAY

Juniors 5:30 PM

Adults 6:30 PM

The Cuthbert Centre Centre

Portsmouth po3 6ea

WEDNESDAY

Juniors & Adults 6:30 PM to 7:30 PM
"*Kickboxing, kung fu and self defence available simultaneously. Classes run for 1 hour."
Southern Open 2023 Championship